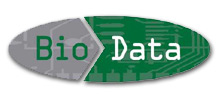 Sponsored and organized by:







WHERE INNOVATIVE LIFE SCIENCE COMPANIES
MEET INVESTORS

// Next Edition March 1st-2nd 2022// Euro-Swiss Technopole
//Archamps//France

BioData 2022
Dear Participants,
Remember the Summer of 1998? The cash dried out very rapidly before August. Biotech teams within venture funds were disbanded. HighTech was strong, biotech pariah.
The rebound was amazingly rapid and strong. Suddenly, thanks to a few good news from Biotech pipelines of drugs and large acquisitions by big pharma the sector replenished its cash reserves in a few months. Biotech analysts found a new employer. The heroes were those who kept their investment in the so-called debacle of the Summer.

Just to say, it is a particular time, when investors exit in mass a sector, the time when the braves can make huge amount of money. Today is somewhat different because the financial crisis is not specific to a sector nor due to the respective expectations for copywriting curso (hightech) vs another (biotech).

Nevertheless, valuations are historically low, even if the shy will not recognize it. The lack of cash is both the result and the cause of the situation. Unemployed cash is idle but enormous compare to the size of the smallcap lifescience market. When the cash will come back to chase growth opportunities, the valuation will surge.

In other words, low valuations are always opportunities for those who can afford to buy when nobody wants to do it, stick as long as needed until the day comes when everybody will want to buy.
BioData 2022 will introduce to investors the most resilient entrepreneurs. Only the best projects survive in this tough times. This is the reason why probably the most promising projects in the history of BioData will be presented in March 2022.
Looking forward to meeting you again at BioData2022!
The Organization Committee
| | | |
| --- | --- | --- |
| Hervé de Kergrohen , MD | Liliane Daugny , MD | Cédric Loiret-Bernal, MD |
| Chairman | | |
| | | |

Chairman